Artyści, którzy tworzą ekipę Koncertu Niepodległości od 2009 roku
Sarah Curro - violin (II skrzepce)
A violinist and a full time member of the Melbourne Symphony Orchestra.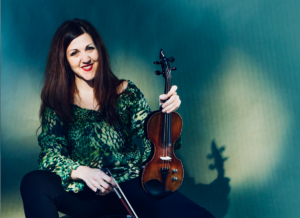 Sarah Curro graduated in 1994 from the Queensland Conservatorium, where she was winner of the Conservatorium Medal for Excellence. After winning the Dorcas McLean Traveling Scholarship for Violinists in 1997 she studied, and then taught, at the Hong Kong Academy for Performing Arts, and from 1999-2002 was a member of the Hong Kong Philharmonic Orchestra.
In Australia, she has performed with the Australian Chamber Orchestra, Queensland Philharmonic and Symphony Orchestras, Tasmanian Symphony Orchestra, Orchestra Victoria and is currently a full time member of the Melbourne Symphony Orchestra.
Sarah's interest in education and commissioning new music is inspired by her great father John Curro, Founder of The Queensland Youth Orchestras. Her experience as a tutor includes work with the students from The Hong Hong Academy for Performing Arts, Australian Youth orchestra (including National Music Camp, Chamber Camp and Young Symphonists), Queensland Youth Orchestra, Melbourne Youth Music, Southern Cross Soloists Winter Music School, Australasian Orchestra, Orchestra 21 and many more fine community groups around Australia. Sarah has been asked to tutor for the Tutti World Music Festival in Beijing for 2019.
Besides all the conservative orchestral things one can do as a violinist, Sarah's nontraditional ventures focus on the constant discovery, purchase and promotion of new, mostly local compositions of every art form but most of all music. Through the fascinating and unique amplified instruments of Melbourne's SPUR Violins, her solo series VOLUME, now celebrating its 10th anniversary showcases these works in thoroughly modern venues to an ever-widening audience. Sarah hopes to continue this emotional and financial commitment to her arts community.