Artyści, którzy tworzyli ekipę Koncertu Niepodległości w latach 2009-2017
Aline Homzy
A violinist and composer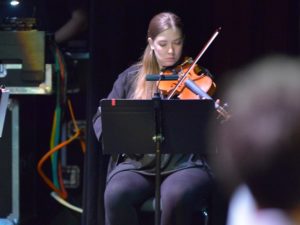 Aline Homzy is a classical and jazz award-winning violinist and composer. She co-leads a jazz-manouche group called Les Petits Nouveaux which have found international success, having performed in jazz festivals in Europe and Canada. She also writes music for big band, string quartet and for her own projects which blend classical, jazz and her own sound of music.
Aline is a recipient of numerous grants from the Canada Arts Council as well as the Ontario Arts council and has received many awards. She has studied in New York City with violinist Sara Caswell, pianist Jacob Sacks and the legendary arranger Sy Johnson. She will be returning to New York this fall to continue her studies and will complete her year in Berlin.
Aline has been playing since age 5 in Montreal. Her most important performances and collaborations since moving to Toronto have been with composer/guitarist David Occhipinti, vibraphonist Michael Davidson, composer/pianist Ron Davis and Swedish guitarist Mikko Hilden. She has also performed with multi-cultural ensemble Odessa/Havana (Hilario Duran, David Buchbinder, Roberto Occhipinti), Adam Rudolph, vocalist Nicky Schrire, bassist Yongwon Cho and many others. Aline has traveled to Mexico, Italy, Sweden and all across the US and Canada.